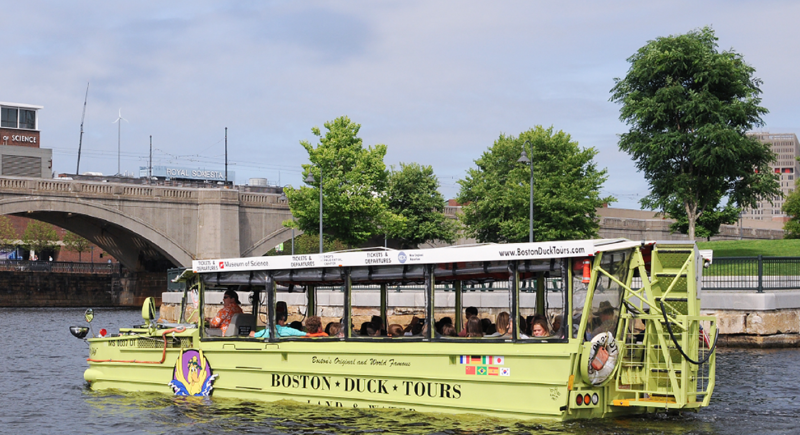 REGISTRATION DEADLINE EXTENDED TO FRIDAY APRIL 15!
We're Boston bound folks! Join us on a charter bus for the Boston Duck Tour and The Prudential Center (25 tickets availbable). We'll be arriving in Boston at approximately 10:30 a.m. and will drop off at the Prudential Building. You'll have time to shop in and around The Prudential Center or take a stroll over to Faneuil Hall Marketplace and grab a bite to eat!
The Duck Tour departs from the Prudential Center at 2:30pm.
Boston Duck Tours is ready to give you the ride of your life! First, you'll be greeted by one of our legendary ConDUCKtors at the Prudential Center. Then, after boarding one of our newly built amphibious vehicles, you'll cruise by all the places that make Boston the birthplace of freedom and a city of firsts. And, as the best of Boston unfolds before your eyes, your ConDUCKtors will be giving you lots of little known facts and interesting insights on our unique and wonderful city. Then, just when you think you've seen it all, your DUCK will SPLASH right into the Charles River for a breathtaking waterside view of Boston and Cambridge. The tour runs approximately 80 minutes.
Here are a few FAQs:
CAN YOU GET ON AND OFF THE DUCK? No.
DO YOU GET WET ON THE TOUR? While we do splash into the Charles River, you will not get wet. You may, however, get a light spray on the River depending upon the direction and strength of the wind.
HOW LONG ARE WE ON THE WATER? The water portion is approximately 20 minutes.
Prudential Center Food Options:
Choose from over 10 different restaurants, including California Pizza Kitchen, Earl's Kitchen + Bar, Num Pang Kitchen and The Cheesecake Factory.
You'll have time to shop and eat at the many locations right there in and around the Prudential Center. Check out what's available at https://www.prudentialcenter.com/.
If you're planning on dining at a restaurant, be sure to call ahead for reservations to be safe!
Be back at the Prudential Center at 5:30pm for the bus ride home!
Saturday, June 11, 2022
IMPORTANT NOTE: Deadline to Register: April 8, 2022
No refunds issued after April 30, 2022.
7:00 a.m. depart Fairfield, Lawrence Jr. High School parking lot, School Street
7:30 a.m. depart West Gardiner park and ride across from West Gardiner Service Plaza
Fee includes transportation and ticket for the Boston Duck Tour.
Registration closed